Since 2017, TDI has long championed the process of Cybersecurity Performance Management (CPM). We see it as transformative in the evolution of cybersecurity teams, as organizations look to track, measure, and optimize their investments in cybersecurity performance. At present, businesses are dumping endless amounts of resources into the latest tools and software suites without considering the realistic return on their investment. CPM relies on visibility into continuous performance against goals along with measures of consistency to create tremendous new understanding around risk, providing for data driven decision making that can truly improve security and curb excess spend. 
This kind of insight that CPM provides revolutionizes the way that organizations manage cybersecurity in support of the business. Automation lies at the heart of CPM, so it can require some effort to get the right process in place. Automation can be done by creating custom tools, but it's not always maintainable when all it takes is one or two updates to an API endpoint to break your reporting tools. This is where CnSight comes in.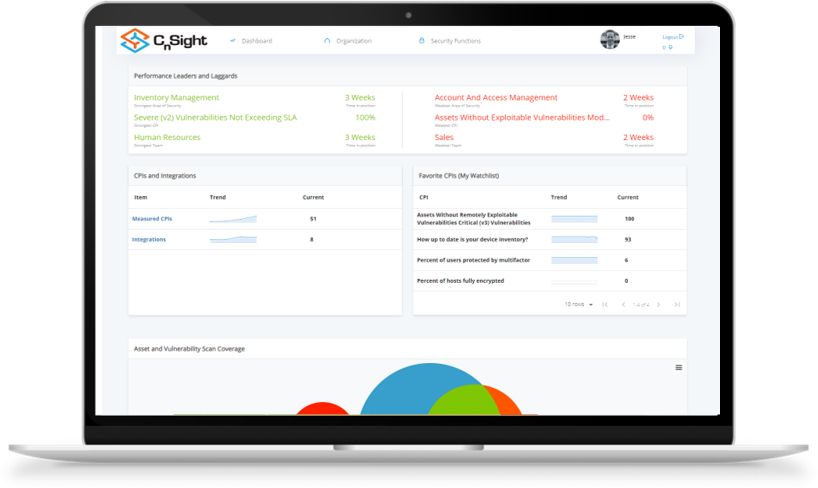 CnSight does the hard part by centralizing the data from your vulnerability scanners, mobile device management platforms, cloud platforms, and other security tools that form the backbone of your security posture. CnSight integrates directly with AWS and Azure to aggregate infrastructural information, but it also has integrations with many of the most popular security tools such as Rapid7, Qualys, Nessus, McAfee, Palo Alto, Splunk, Defender, and more. CnSight is constantly adding to their integration list, and we work directly with customers to create the integrations that they need to hit the ground running. Centralizing the data from these tools provides incredible value for CISOs of any organization. Having this data on-hand, and in an easily digestible format with strong executive reporting tools, is the critical starting point for any security improvement initiative. 
CnSight's value really lies in its ability to facilitate strategic decision making and increasing operational and budgetary efficiencies. Up until now, businesses have been throwing cash at the wall in the hopes that something will stick; but that's no longer sufficient in today's environment. If you could take a specific security initiative, a CSF Function, or even an overall cyber program and know exactly how strong your cybersecurity performance is, it completely changes everything. This new visibility into continuous performance against goals along with measures of consistency and coverage creates tremendous new understanding around risk, providing for data driven decision making that can truly improve security and curb excess spend. Being able to make quantitative decisions based on real-world performance data is a powerful tool in increasing operational efficiency. With CnSight, you can effectively target your weakest performing metrics and dramatically strengthen your baseline cybersecurity performance without falling into the trap of ballooning cybersecurity budgets. Best of all, customers can see and measure the impact of cybersecurity improvement in real time. Being able to prove to board members, executives, and stakeholders the tangible return on their investment in security is key to getting cybersecurity buy-in with all stakeholders. We outlined the huge value that CnSight provides to board members in our recent nSights Report: Cybersecurity Alignment with the Board, which you can find here. 
CnSight doesn't just provide value in boardroom meetings or on budget sheets, though. CnSight automates cybersecurity performance tracking, which directly leads to more actionable and targeted cybersecurity improvements. Strengthening your cybersecurity program from the ground-up with targeted improvements exacts a tangible impact on the baseline cybersecurity performance of an organization, reducing risk and improving overall security. Cybersecurity performance management encourages small, continuous improvements that foster a culture of constant growth and strong competencies in the fundamentals of cybersecurity. The key value in CPM is the ability to compare Cybersecurity Performance Indicators (CPIs) against organizationally defined goals, such as multifactor authentication compliance, time to patch critical vulnerabilities, and the percent of known assets that have been scanned for vulnerabilities. 
CnSight is a lightweight service that is able to integrate with just about any tool that has an API, and even those that don't. Its value comes from its modularity and flexibility as a strategic tool used to foster a cybersecurity culture of continuous improvement and strong fundamental cybersecurity performance. TDI is leading the charge on a whole new product category in Cybersecurity Performance Management (CPM), and CnSight is at the forefront of this evolution in cybersecurity strategy. 
Schedule a demo with us today to see for yourself how CnSight can transform your organization.